Cancer Genetics: Susceptibility to Both Spontaneous and Induced Tumors Is Inherited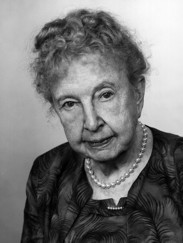 Lynch, Clara
Courtesy of the Rockefeller Archive Center
In the early 20th century, scientists were beginning to understand the causes of cancer. They recognized that tumors could be induced in laboratory animals by rubbing coal tar on the skin. And they knew that some strains of mice tended to develop tumors spontaneously in particular organs. In the 1920s Clara J. Lynch (1882-1985) made important contributions to the young field of cancer genetics. Her careful mouse breeding studies proved that susceptibility to lung and mammary tumors, both spontaneous and experimentally induced, can be inherited.
Lynch worked in the laboratory of James B. Murphy (1884-1950) at the Rockefeller Institute. Her early studies took advantage of the fact that some strains of laboratory mice were known to develop mammary tumors frequently and spontaneously, whereas others did not. Experiments crossing females from strains prone to tumors with males from other strains led her to conclude that the tendency to develop tumors was inherited in a dominant fashion. Her study took issue with the widely known view of another mouse geneticist, Maud Slye at the University of Chicago, that spontaneous tumors were inherited in a strictly recessive Mendelian pattern, and it helped keep open the question of the complexity of cancer genetics.
Lynch also was the first to study the genetics of spontaneous lung tumors in mice, breeding her own strains of animals for her experiments. Later she performed comparative studies of mice with induced tumors.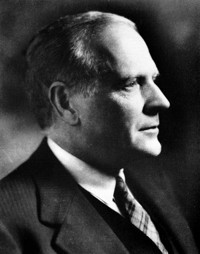 Murphy, James
Courtesy of the Rockefeller Archive Center
Lynch's legacy lives on not only in her research, but also in the stocks and strains of mice she introduced to science. Most famously, in 1926 she brought two male and seven female mice from a laboratory in Lausanne to Rockefeller. She called these outbred, albino mice her Swiss mice, and bred them and distributed them to other researchers. Some of the mice went to commercial breeders as well. In Lynch's lifetime Swiss mice were used in large-scale studies of yellow fever. Today many commercially available mouse stocks are derived from the Swiss mice.
Clara J. Lynch received the BA (1902) from Smith College and the PhD (1919) from Columbia University, where she worked under geneticist Thomas Hunt Morgan. She taught mammalian anatomy and physiology at Smith College from 1913 to 1916. In 1918 Lynch joined the Rockefeller Institute as an assistant, and was promoted to associate in 1926. She remained at Rockefeller until her retirement in 1971.
Selected Publications
Lynch CJ. Studies on the relation between tumor susceptibility and heredity: I. J Exp Med, 1924, 39: 481-495
http://www.jem.org/cgi/reprint/39/3/481
Lynch CJ. Studies on the relation between tumor susceptibility and heredity: II. The incidence of tar tumors in strains of mice having a differing incidence of spontaneous growths. J Exp Med, 1925, 42: 829-840
http://www.jem.org/cgi/reprint/42/6/829
Lynch CJ. Studies on the relation between tumor susceptibility and heredity: III. Spontaneous tumors of the lung in mice. J Exp Med, 1926, 43: 339-355
http://www.jem.org/cgi/reprint/43/3/339
Lynch CJ. Studies on the relation between tumor susceptibility and heredity: IV. The inheritance of susceptibility to tar-induced tumors in the lungs of mice. J Exp Med, 1927, 46: 917-933
http://www.jem.org/cgi/reprint/46/6/917
Lynch CJ. Studies on the relation between tumor susceptibility and heredity: V. The influence of heredity upon the incidence of lung tumors in mice. J Exp Med, 1931, 54: 747-760
http://www.jem.org/cgi/reprint/54/5/747
Further Reading
Corner GW. A History of the Rockefeller Institute, 1901-1953: Origins and Growth. New York: Rockefeller Institute Press, 1964
Lynch CJ. The so-called Swiss mouse. Lab Animal Care, 1969, 19: 214-220
Chia R, Achilli F, Festing MFW, and Fisher EMC. The origins and uses of mouse outbred stocks. Nature Genetics, 2005, 37: 1181-1186