Launching the Modern Field of Research Nursing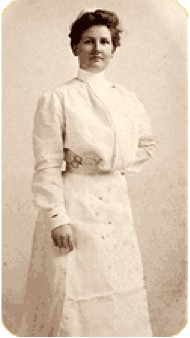 Ellicott, Nancy
Courtesy of Johns Hopkins University School of Medicine
The founders of the Rockefeller Hospital knew that successful clinical research would require the participation of well-educated nurses. Nancy P. Ellicott (1872-1944) was hired as Superintendent of Nurses in 1909, even before the Hospital's official opening. She was a graduate of the Johns Hopkins Hospital School of Nursing—among the most rigorous schools at the time—and in the Hospital's first decades she recruited most of her staff from Hopkins. Ellicott's leadership set a high standard for the role of nurses in the new field of clinical research. The Rockefeller Hospital served as an important training ground for research nurses, and many women who worked under Ellicott early in their careers carried their expertise in nursing in a research setting to other medical institutions around the country.
At a time when training for nurses was only beginning to be formalized and clinical research was a new endeavor entirely, Ellicott understood well the important role of nurses on the research team. She wrote, "In order to make possible the realization of the aspirations of the founders of the hospital, the nursing must be of the very highest type. Records must be most carefully and accurately kept, symptoms observed and recorded, reports intelligently and faithfully made, for a lapse in vigilance, or in a specimen lost in a moment of heedlessness, might render worthless the labor of many weeks."
Ellicott also constantly searched for new ways to redesign the many labor-intensive tasks in nursing, maintain a germ-free environment, and tend to the comfort of patients. She invented a hamper on wheels for transporting dirty linens, thus freeing nurses from having to carry sheets in their arms and the associated risk of soiling their uniforms in the process. Instead of cumbersome and heavy freestanding screens that nurses had to take to and from patient beds to achieve privacy, she proposed the system of ceiling-mounted runners and pull curtains between beds. She also designed a trolley for food trays, heated by electric coils, and a washable canvas back rest that carried her name and was used to raise patients to a sitting position in their beds. In addition, Ellicott advocated the use of newly available hospital beds on wheels, which were much easier for nurses to move. These and other of Ellicott's inventions were sold to many institutions by the Hospital Supply Company of New York as part of its Rockefeller collection.
Nancy Poultney Ellicott was educated at the Johns Hopkins Hospital School of Nursing (1900-1903). After two years in charge of Ward H in the Johns Hopkins Hospital she became superintendent of Nurses at the Church Home and Infirmary in Baltimore from 1905 to 1907, and the next year served as that institution's superintendent. In 1909 she was appointed superintendent of nursing at the Rockefeller Institute Hospital, where she remained until 1938, when she retired. For her work at the War Demonstration Hospital on the Rockefeller campus during World War I, Ellicott was awarded a Medal of Honor from the Minister of Hygiene of France (1926).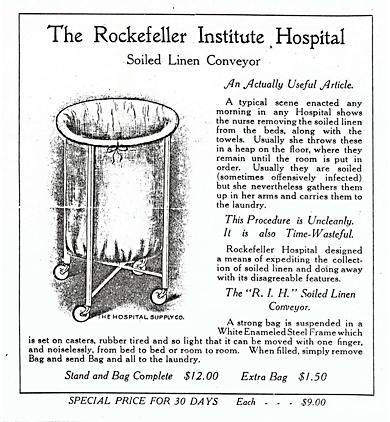 Soiled and clean linen carrier on wheels has been proposed by Nance
Ellicott. Courtesy of Johns Hopkins University School of Medicine
Selected Publications
Ellicott NP. The Hospital of the Rockefeller Institute for Medical Research. Johns Hopkins Nurses Alumnae Magazine, 1910, 9(4): 209-213
Ellicott NP. The future of the trained nurse. Johns Hopkins Nurses Alumnae Magazine, 1911, 10(4): 178-181
Ellicott NP. Opportunities for original work in the improvement of hospital appliances. Johns Hopkins Nurses Alumnae Magazine, 1914, 12(4): 206-209
Further Reading
Cole R. Nancy Poultney Ellicott. Johns Hopkins Nurses Alumnae Magazine, 1944, 43(4): 122
Johns E and Pfefferkorn B. The Johns Hopkins Hospital School of Nursing, 1889-1949. Baltimore: Johns Hopkins Press, 1954
Links
Nancy P. Ellicott Collection, The Alan Mason Chesney Medical Archives of The Johns Hopkins Medical Institutions
http://www.medicalarchives.jhmi.edu/papers/ellicott.html