Hematopoietic Stem Cells, and Unraveling the Immune Response to Tuberculosis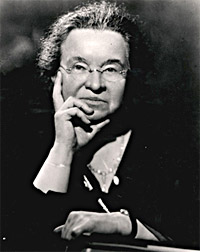 Sabin, Florence
Courtesy of the Rockefeller Archive Center
When Mycobacterium tuberculosis infects tissue such as the lungs, tubercles typically form—lumps made up of layers of immune system cells as they surround and attempt to destroy the bacteria. Since the 1890s, researchers had known that even dead Mycobacterium tuberculosis could stimulate this response. In the 1920s, Florence Sabin (1871-1953) set out to identify the chemical components of the bacterium that provoke the activity of different immune system cells. In addition, during the course of this work, Sabin discovered how monocytes evolve into the multinucleated "giant cells" found in tubercular lesions. These studies, carried out between 1925 and 1938, made important contributions toward understanding the immune response to TB infection.
Sabin's interest in immune system cells, also known as white blood cells, stemmed from her pioneering work on the origin of blood cells in developing embryos. Studying chick embryos with the new tissue culture methods of the day, she observed both red and white blood cells emerging from the endothelium of the blood vessels. Sabin also perfected cell staining techniques with which to differentiate the living blood cells. In addition, her investigations of the embryological origins of the lymphatic system established that its structures develop from the embryo's veins. These areas of research, as well as her widely used textbook, Atlas of the Medulla and Midbrain (1901), garnered Sabin a national reputation as an anatomist.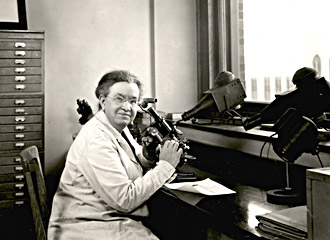 Sabin, Florence
Courtesy of the Rockefeller Archive Center
Florence R. Sabin received the BS from Smith College (1893) and the MD from The Johns Hopkins University Medical School (1900). After an internship at the Johns Hopkins Hospital, she joined the medical school faculty, advancing to professor of histology in 1917. She was the first woman to become a full professor at The Johns Hopkins Medical School. In 1924 she became the first female president of the American Association of Anatomists. The next year she moved to the Rockefeller Institute for Medical Research, where she was the first woman to be appointed member (full professor) of the Institute. She retired from Rockefeller in 1938, and in 1944 she embarked on a new career in her home state, Colorado, investigating health services and campaigning for public health legislation in a series of government posts. For this work she received a Lasker Award for Public Service (1951). In addition to 15 honorary degrees, Sabin's scientific achievements were recognized with election to the U.S. National Academy of Sciences (1925), of which she was the first female member, and the Trudeau Medal of the National Tuberculosis Association. She also published a biography of her Johns Hopkins mentor: Franklin Paine Mall: The Story of a Mind (1934). Arguably the best known woman scientist of her generation, Sabin was named one of America's twelve most eminent living women in a Good Housekeeping magazine poll (1931). A statue of Sabin stands in the National Statuary Hall of the U.S. Capitol.
Selected Publications
Cunningham RS, Doan CA, and Sabin FR. The development of leucocytes, lymphocytes, and monocytes from a specific stem-cell in adult tissues. Carnegie Inst Contrib Embryol, 1925, 16: 227
Cunningham RS, Sugiyama S, Kindwall JA, and Sabin FR. The role of the monocyte in tuberculosis. Johns Hopkins Hosp Bull, 1925, 37: 231
Doan, CA and Sabin FR. The effect of tubercle bacilli and the chemical fractions obtained from analysis on the cells of the connective tissues in rabbits. Proc Natl Acad Sci USA, 1927, 13: 552
Doan CA and Sabin FR. The biological reactions in rabbits to the protein and phosphatide fractions from the chemical analysis of human tubercle bacilli. J Exp Med, 1927, 46: 645
http://jem.rupress.org/cgi/reprint/46/4/645
Doan CA, Forkner CE, and Sabin FR. Biological reactions to the chemical fractions from human tubercle bacilli. II. The identification of a specific maturation factor for monocytes and epithelioid cells, and an analysis of the role of the monocyte in the resistance to tuberculosis. Tr Twenty-fourth Annual Meeting of the Nat Tuberc Assn, 1928, p. 253
Doan CA, and Forkner CE, and Sabin FR. The reactions of the tissues to the lipoid fractions of the tubercle bacillus, strain H-37. Am Rev Tuberc, 1930, 21: 290
Miller FR, Doan CA, Wiseman BK, and Sabin FR. The biological reactions of the carbohydrates of the tubercle bacillus. Tr Twenty-sixth Annual Meeting of the Nat Tuberc Assn, 1930, p. 184
Sabin FR, Doan CA, and Forkner CE. Studies on tuberculosis: Chapter I. Reaction of the connective tissues of the normal rabbit to lipoids from the tubercle bacillus, strain H-37. J Exp Med, 1930, 52(6)Suppl 3: 3-72
http://jem.rupress.org/cgi/reprint/52/6_suppl_3/3
Doan CA, Sabin FR, and Forkner CE. Studies on tuberculosis: Chapter II. Reaction of the connective tissues of the normal rabbit to a water-soluble protein and a polysaccharide from the tubercle bacillus, strain H-37: Spontaneous psuedo-tuberculosis aspergillina as a complication in fraction testing. J Exp Med, 1930, 52(6)Suppl 3: 73-88
http://jem.rupress.org/cgi/reprint/52/6_suppl_3/3
Doan CA, Sabin FR, and Forkner CE. Studies on tuberculosis: Chapter III. The derivation of giant cells with especial reference to those of tuberculosis. J Exp Med, 1930, 52(6)Suppl 3: 89-112
http://jem.rupress.org/cgi/reprint/52/6_suppl_3/89
Doan CA and Sabin FR. Studies on tuberculosis: Chapter IV. The relation of the tubercle and the monocytelymphocyte ratio to resistance and susceptibility in tuberculosis. J Exp Med, 1930, 52(6)Suppl 3: 113-152
http://jem.rupress.org/cgi/reprint/52/6_suppl_3/113
Sabin FR. Cellular reactions to a dye-protein with a concept of the mechanism of antibody formation. J Exp Med, 1939, 70: 67-82
http://jem.rupress.org/cgi/reprint/70/1/67
Further Reading
McMaster PD and Heidelberger M. Florence Rena Sabin, 1871-1953: A biographical memoir. Washington, DC: National Academy of Sciences, 1960, 34: 1-57
http://www.nasonline.org/site/PageServer?pagename=MEMOIRS_S
Links
National Library of Medicine Profiles in Science: Florence R. Sabin
http://profiles.nlm.nih.gov/RR/